A user-friendly editing tool that allows you to easily design your storefront, your banners and many other elements
Make better designs in less time!
Anyone can create and manage designs for every corner of their online store.
Experience the freedom of design and professional results of Edibot tools.
Edibot tools
The easiest way to design your store
Edibot tools allow you to easily create and manage designs for your online store and banners.
Design your store exactly the way you want it thanks to the tools' user-friendly interfaces.
Unleash your inner designer with a few simple drag-and-drops.
Create your online store and try out Edibot tools.
Select one of the numerous templates that are offered for product descriptions.
AI will analyze the images you upload and automatically categorize them into model shots, detail shots or color images.
Use this tool to create the product information section, including details of sizes, materials and washing instructions.
Decorate your content with the various stickers that are offered.
Edibot
Manage both design
and translation with
a few simple clicks.
Use Artificial Intelligence (AI)
to smartly create your product content.
Various templates are offered in all shapes and sizes.
The app comes with numerous text editing tools, including fonts and various spacing options.
You can edit up to five different banners at a time.
You can preview, compare and download the different banners you are working on.
Edibot Banner
Effortlessly create
your banners with
Edibot Banner templates.
Save time and create high-quality banners thanks
to the templates that are offered by Edibot Banner.
Various components are offered, leaving you with endless possibilities for your theme.
Edit your theme's layout with a simple drag-and-drop.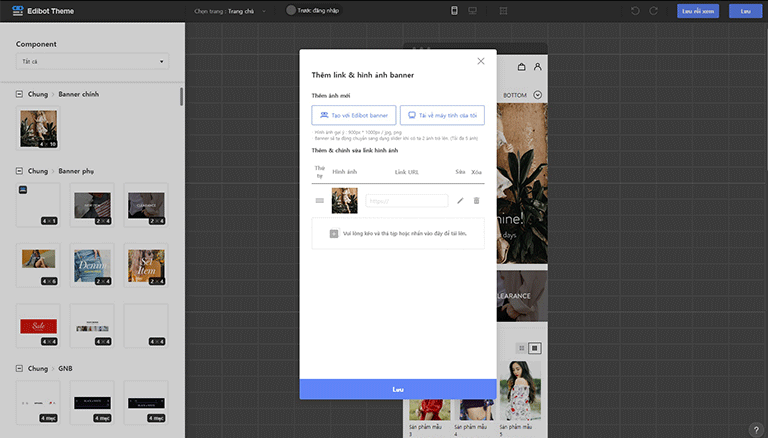 Simply click on the editing icon and change the info to the image or link of your choice.
Create a responsive theme that is optimized to all desktop and mobile devices.
Edibot Themes
Design your store's theme
with a simple drag-and-drop.
Create a theme for your online store with the components of
your choice by simply using drag-and-drop.
Design your online
store with Edibot tools.
All the doors are wide open with Cafe24.