The perfect admin page for people who are just getting started
Launch your store the smart way
Achieve your dreams with the Smart Mode,a fast and easy road to success.
Effectively manage your store
with this user-friendly interface
Smart Mode allows you to easily create and manage your online store.
If offers you a convenient environment in which you can forget about
any complicated tools and concentrate on your business.
Simple yet powerful
An interface tailored to first-time users that includes all the
most popular features,
as well as smart tools such as
AI-generated product content and link-based social selling.
Switching modes
Easily switch between admin modes
Convenient Smart Mode or All-inclusive Advanced Mode - Switch
between modes with one single click depending on
your management style and your customers' needs.
Drag the arrows to compare the two modes.
Advanced Mode
Smart Mode
Setting up your store
Quick and easy setup
Use "Quick settings" to set up your store in no time by
filling in the information that is most required by Cafe24 admins.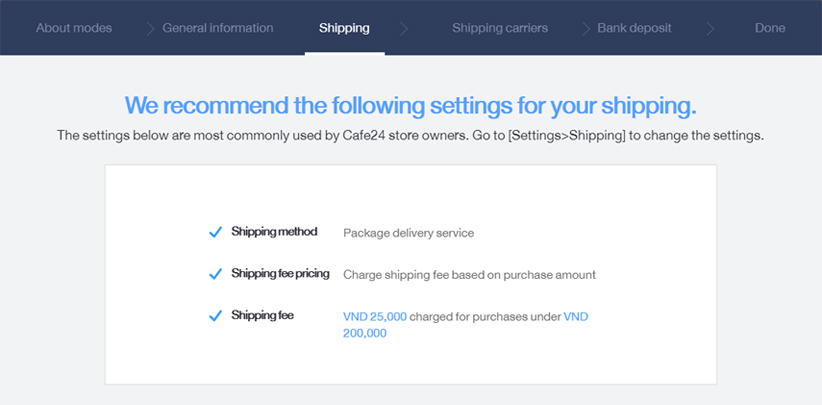 Adding products
AI-generated product content
Edibot is a tool that uses AI to analyze and categorize images,
then automatically creates your product details page.
Adding your products has never been so fast and easy.
Social selling
Selling everywhere
with Buy Now URL
Share Buy Now URLs through social channels or text messages.
These links will redirect customers directly to the checkout page.
Boost your sales by using these simple Buy Now URLs.
Start your journey with the Smart Mode.
All the doors are wide open with Cafe24.